HPUMC Haiti Partnership
The Haiti Partnership, a ministry of Highland Park United Methodist Church, is our longest-standing global outreach ministry. Since 1975, we have sent over 80 mission teams to the region of Petit Goave, where the Siloe Clinic was established. The clinic now employs a full Haitian staff who see patients year-round, with supplemental care and training provided by visiting teams.
Over the years our work has expanded to include not only medical and dental care, but economic and community development, housing, and educational support, and disaster response to the frequent crises that plague this tiny island nation.
Due to COVID-19 our travel to Haiti is suspended, but we continue to support our Haitian medical staff and to provide supplies and medications, emergency food distributions, and more.
Contributions of any amount are important to ensure ongoing operations and continuation of the HPUMC legacy in Haiti!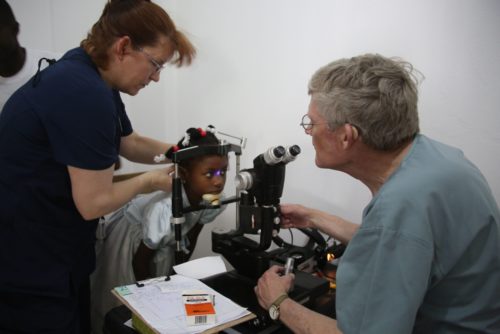 History of Haiti Ministry
HPUMC's work in Haiti began in 1975 under the leadership of Rev. Leighton Farrell, Rev. Ken Dickson, and Dr. O.L. Willbanks. Since 1975, the HPUMC Haiti partnership has sent over 80 mission teams and now employs two Haitian Ophthalmologists, a Haitian general medicine doctor, several Haitian nurses, lab technicians and support staff who see patients year-round. An expansion of both facilities and services is underway to bring year-round dental and women's health care to the people of Petit Goave.