What Habitat means to us
Over the years, we have shared joy and a sense of accomplishment with our network of HPUMC core volunteers, building lasting relationships along with each new home.
The first day that my wife, Karen, and I volunteered to build a Habitat for Humanity home was in August, 2008. By the end of the day, it was 100 degrees, and probably even hotter on the concrete slab! From that day forward, we became core volunteers with HPUMC's Carpenters for Christ outreach group. Forty-four houses, 200+ volunteer days, and eight years later, both of us enjoy the experience more than we ever imagined.
We have been very blessed with the health, attitude, motivation, ability and time to be able to participate in such a great "giving back" opportunity. Over the years, we have discovered the blessings we receive in return for our efforts are many times greater in magnitude and frequency. The ROI (return on investment) has been huge for us. That's what really keeps us coming back for more.
We made the decision to volunteer that first day for several reasons. Firstly, when Rev. Mark Craig brought us into the congregation as members of HPUMC, he asked for our faith, our support and our service. We agreed. During the new member orientation, we learned that HPUMC had made a major commitment to Habitat for Humanity: to build 100 homes by 2016. They were living up to that generous promise!
Secondly, Dallas Area Habitat for Humanity and Carpenters for Christ are locally based organizations. They offer a hand up, not a hand out, to the local community by giving motivated but less fortunate people a chance to improve their standard of living. Through our involvement with Carpenters for Christ, we learned that Habitat is a major force in improving the quality of life in poor neighborhoods by creating safer and stronger communities. Dallas area Habitat homeowners pay over two million dollars in taxes to Dallas County every year so the city benefits financially from this effort. As we continued our commitment, we found it is a good way to meet fellow members and get involved in HPUMC - more so than just attending a service once a week. Habitat gives us a chance to enjoy the outdoors, and to work with our hands AND our hearts. Lastly, it is something we can do and share together as a couple.
Over the years, we have shared joy and a sense of accomplishment with our network of HPUMC core volunteers, building lasting relationships along with each new home. We enjoy meeting, getting to know, and training the new volunteers that come to participate with their group, whether it is an SMU sorority or fraternity, or a crew of Southwest Airlines employees. It is very rewarding to empower them with homebuilding skills that they never thought themselves capable of, including the use of power tools!
Plus, the homeowners work along with us on their own house. They are always so excited, happy, in awe, and gratified to see their houses take shape right before their eyes with their own efforts as well as the efforts of others. The volunteers enjoy the process just as much as the homeowners do. It is also rewarding to attend the dedication ceremony of the home to the family. There have been many emotional times as the homeowners are handed the keys to their new house. In turn, they often get choked up when thanking all the volunteers for their united efforts.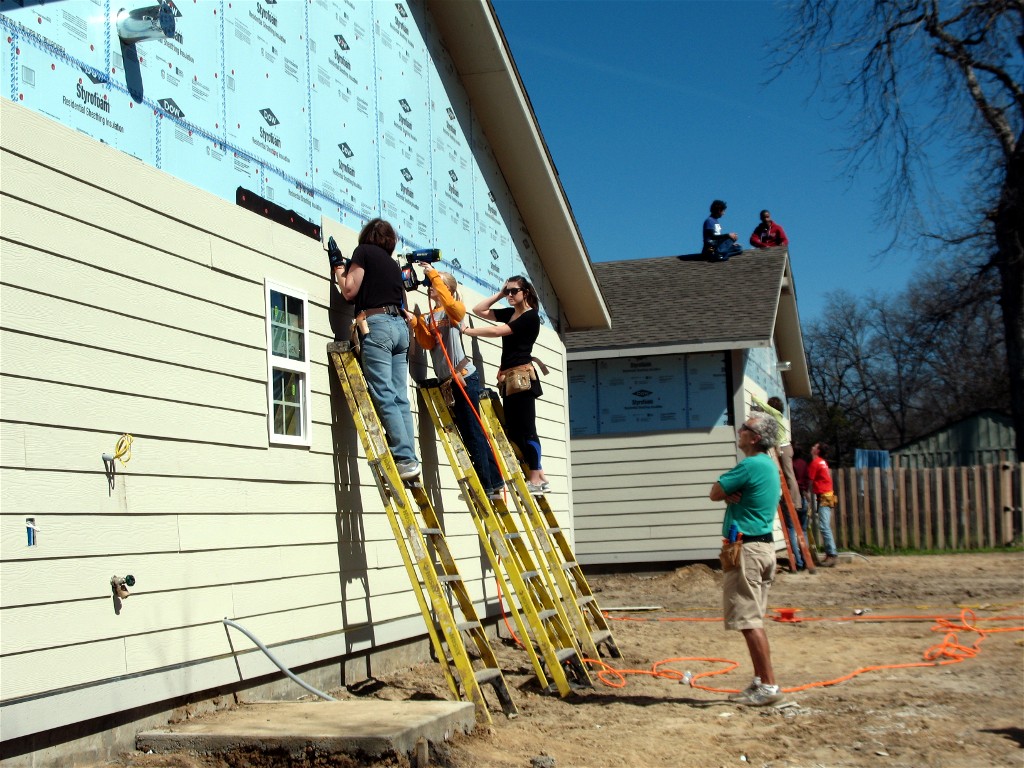 One of the goals that Karen and I share is to do a great job on the construction of the house every time we volunteer to work. We also make sure everybody we are working with is having FUN. No matter what the task, we do everything in our power to build camaraderie and have a crew of smiling faces. From raising the walls to installing windows and siding, we create a fun working environment for all on the job site.
We have met so many wonderful people, had so many rewarding experiences, and improved the lives of so many families that our volunteer days all seem to run together. All are joined by the common thread of joy and fulfillment. Everything that we give of our time and talents comes back to us tenfold. The rewards and sense of accomplishment from working with Habitat and Carpenters for Christ have been some of the highlights of our 40-year marriage. The couple that works together stays together! Karen and I look forward to more great experiences, new relationships with homeowners and volunteers alike, plus a multitude of blessings as we continue to show up with our hammers in hand!